There are a lot of choices when it comes to hanging a TV on the wall. Whether you're looking at TV mounting options online or checking them out in a store, it can all be a bit overwhelming and create a lot of questions:
What are the different types of TV mounts? Do I want one that can move? Do I need a TV mount that tilts and swivels, or is tilt enough? Is a full motion TV mount the same as an articulating TV mount? And what about a swivel mount?
To help you decipher what all the different terms mean and find the best TV mount for you, here is our comprehensive TV wall mount guide that covers the three main categories of TV mounts and situations where each option works best.

Full Motion TV Mounts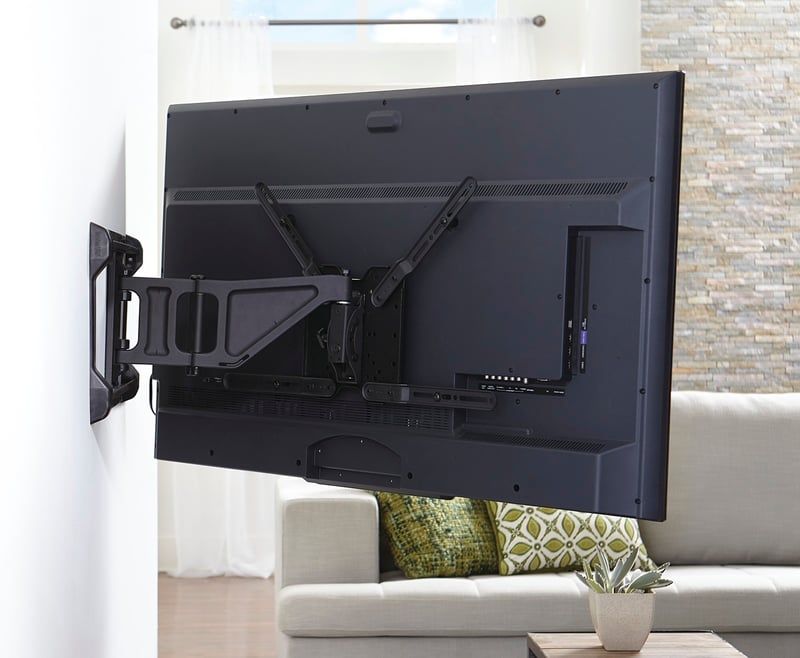 Full motion TV mounts, also called articulating TV mounts or swivel TV mounts, are the most flexible type of TV mounts. With a full motion mount, you can pull the TV out, swivel it left and right and tilt it down. With all this motion and flexibility, you can point your TV anywhere in the room.
If you've been looking at full motion mounts, you've probably noticed an extension length listed for each product, and you may be wondering how much extension you actually need. Is 10" enough? How about 18"? Holy smokes, do I really need 32"?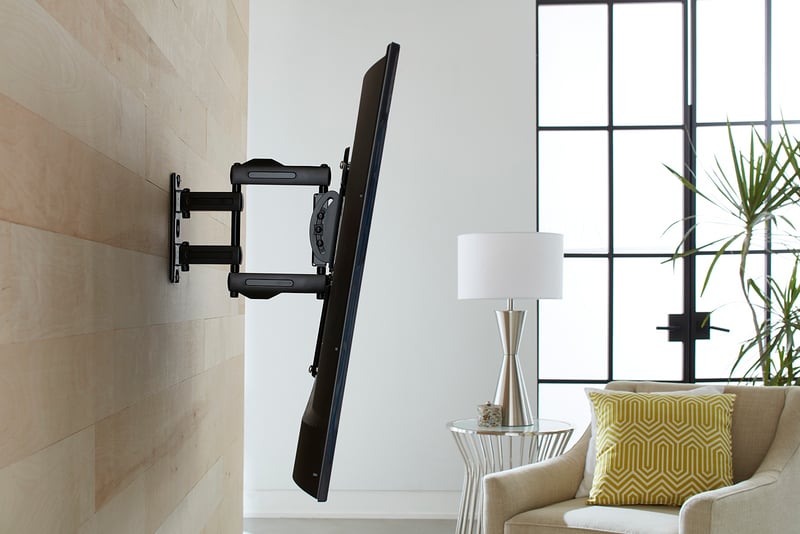 The further a mount extends from the wall, the wider its range of swivel and the easier it is to turn your TV to face you at any seat. If you want to view your TV from multiple areas in your room, you'll want more extension. TV size also factors into this equation. The larger your TV is, the further you will need to pull it away from the wall in order to be able to fully swivel your TV left to right.
A Full Motion Mount Works Best When...
You have multiple viewing angles, i.e., there are multiple spots in your room where you want to have a clear view of the TV, or you want to be able to view the TV from an adjacent room. For example, if you have an open concept floor plan and want to be able to view the TV in your great room while you're in the kitchen.
You need flexible viewing angles due to the shape of your room, the way your furniture is arranged or if your windows are on an adjacent wall to your TV and you need to swivel the screen away from ambient light. This would be a situation where you can't put your TV directly across from your main seating area.
You need to mount your TV in the corner to save space. You may run into this scenario if you have limited wall space due to window placement or if you have a fireplace and are looking for an alternate location because you don't want to mount your TV above the mantle.
You need access to the back of your TV. If you regularly switch out HDMI connected devices like a Blu-ray player, streaming media device or gaming system from behind your TV, a full motion mount makes the back of the TV easily accessible.
Tilting TV Mounts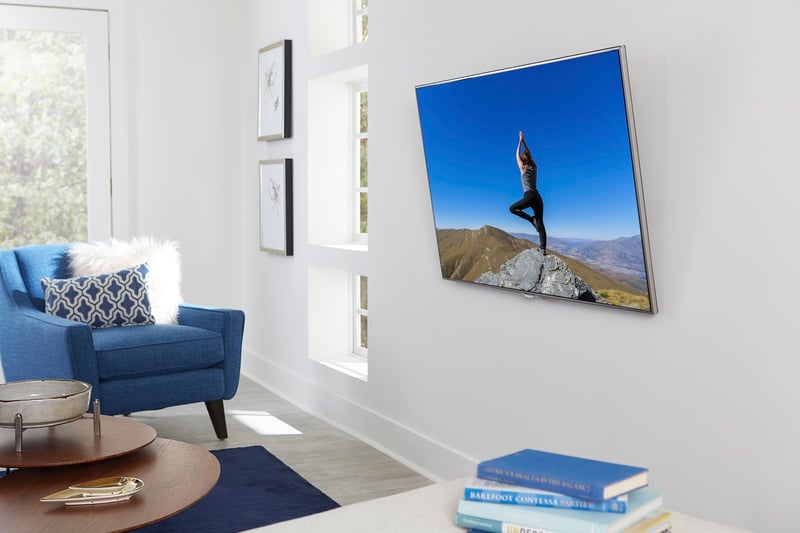 As the name would lead you to believe, a tilting TV mount…tilts. A tilting wall mount allows you to adjust the degree of tilt of your television, so you can have the best viewing experience from multiple heights. This is ideal if you need to mount your TV above eye level.
If you're mounting a larger TV, you also want to consider a tilting TV wall mount that includes extension, so you can get maximum tilt. Without the extension, larger TVs hit the wall before full tilt is reached. If this is something you're looking for, we recommend the VLT6 SANUS tilting wall mount.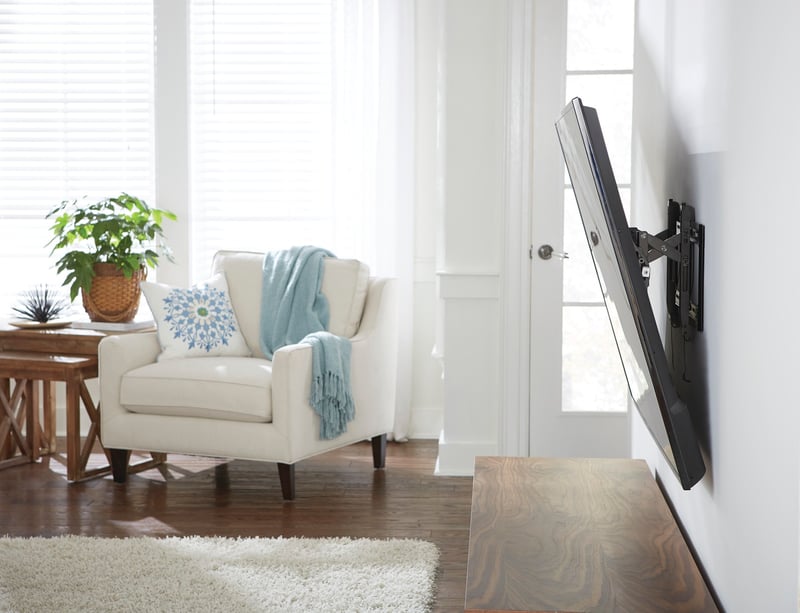 A Tilting Mount Works Best When...
You need to mount your television above eye level. Examples of this would be mounting a TV above a fireplace or over a piece of furniture like a dresser or bureau.
You want to view your TV from multiple heights. You want to be able to tilt your TV downward when you're on the floor playing video games or following along with a workout DVD, then easily tilt your TV back to the ideal position for watching TV from the sofa.
You're dealing with TV glare and need to tilt your screen to combat reflections coming from indoor or outdoor lighting sources.
Fixed Position TV Mounts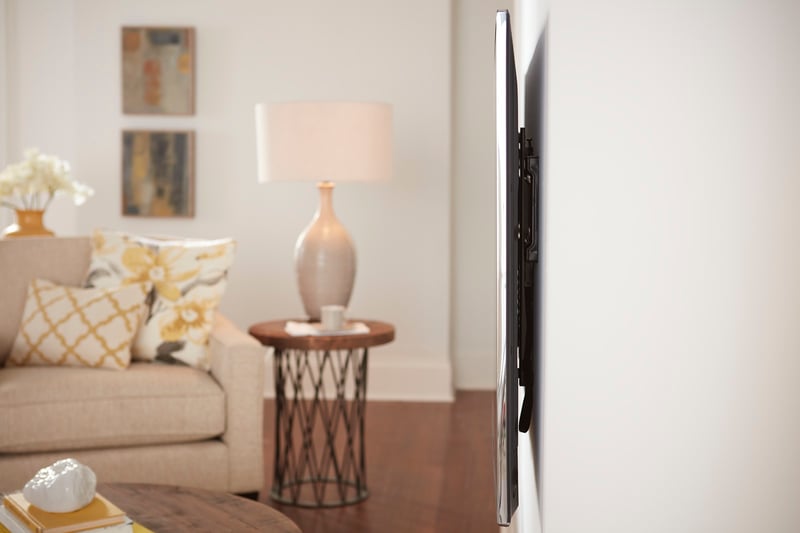 Fixed position TV mounts, also called low profile TV mounts, are the simplest TV mount option. As the name suggests, fixed position mounts are stationary.
Fixed position mounts complement the sleek look of a flat-panel TV by placing it close to the wall, with super slim varieties placing TVs practically flush with the wall.
Fixed Position Mounts Work Best When...
Your TV can be mounted at a single, optimal height.
Your viewing area is directly in front of the TV.
TV glare isn't an issue.
You don't need to access the inputs on the back of the TV.
You want your TV to be flush with the wall.
Find a Mount That Fits Your TV
We can easily help you find TV mounts that are compatible with your TV with the SANUS MountFinder tool. Our database has 32,000 TVs just waiting to be matched to the perfect TV mount. Just put in the brand of TV, size of screen, and model number, and we'll tell you which mounts will work for you.
All SANUS TV mounts are safety tested by our quality team and are UL Certified, have a 10-year limited warranty, and can be installed in three easy steps.
Topics: How To, TV Mount, Video, Fixed-Position Mount, Full-Motion Mount, Tilting Mount