It's always really exciting to purchase that new, state of the art television. After you bring it home – or better yet, before you get it, you need to decide where you want to put it. To get the most out of your viewing experience, skip the TV stand and hang your TV on the wall. Watch the video below and read on below to see how to safely and securely mount a TV to the wall.
Step One: Secure the Mounting Bracket on the Back of the TV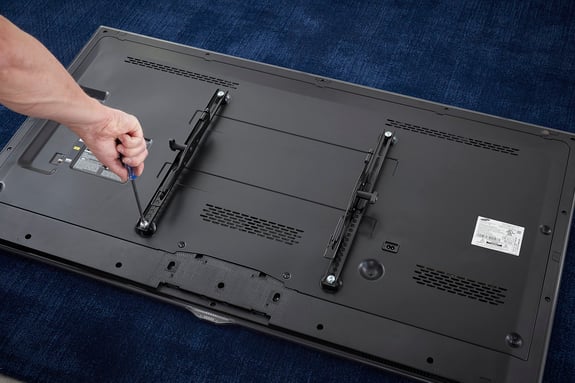 Line up the holes on the TV bracket with the holes on the back of the TV.
You will know you are right because everything lines up. The bracket doesn't cover up anything on the back of the TV that it shouldn't. Your power cords and your data will be easily accessible.
Hand tighten the bracket on to TV with a Philips head screwdriver.
Step Two: Attach Wall Plate Bracket to Wall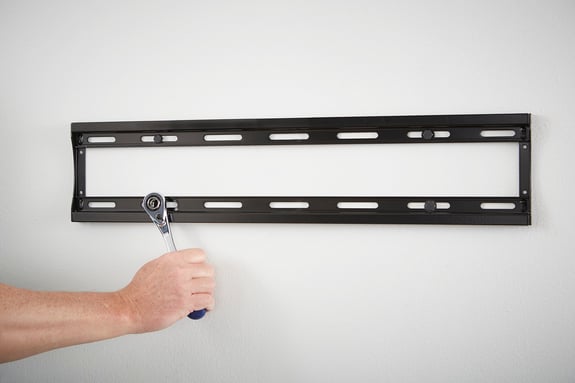 In your SANUS Mount box, there will be a template to assist with hanging the wall plate bracket on the wall. First, use a stud finder to locate the studs. They are usually every 16 or 24 inches. Line up the template with the studs, use a level to ensure the template is straight, and adhere to the wall with tape.
If you want help determining the right height to mount your TV on the wall, check out the HeightFinder tool.
Drill holes into the wall directly through the template. The template will help prevent any error of drilling the wrong holes into the wall. Align the bracket with the holes and drill in the screws.
Step 3: Hang the Television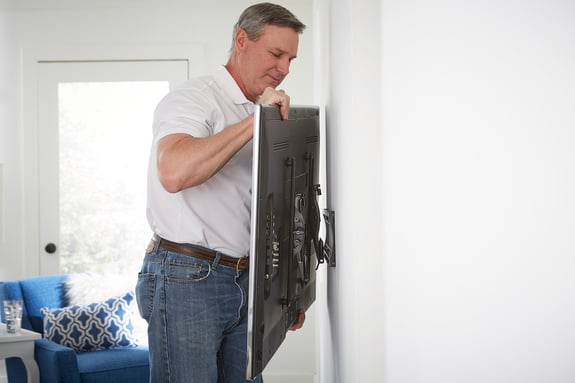 If you are using the full-motion mount, attach the articulating arm to the wall bracket. It will be secure when you hear it click into place. Then attach the TV bracket to the arm.
If you're installing a tilting or fixed-position mount, you will attach the brackets on the back of the TV directly to the wall plate. With all types of TV mounts, make sure your locking mechanism is engaged.
Now step back….and there you have it. That's how to mount a TV to the wall.