Gone are the days of having a bulky media cabinet to hold all of your cable components and TV (thank goodness). In fact, you may consider taking that clean look one step further and get rid of the cable box completely by switching to a streaming device. What better way to create a streamlined look in your living space than getting rid of more stuff!
So here are some things to consider when making the switch and going cable free.
Consider Internet Speeds
You will no longer be relying on your cable or satellite service to give you the feed, you will need your internet connection to do that. The FCC recommends about 10-15 megabytes for download speed, but if you have a large family that will be streaming at the same time, you are going to want to bump that up a little bit.
Select Your Streaming Device
There are many options available for streaming devices like Amazon Fire, Google Chromecast, Roku and Apple TV. You may wonder how you even begin to choose which is right for you with so many choices available. Think about the shows you want to watch and the streaming services that provide them like Netflix, Hulu or Amazon Prime. Once you figure out which services have which shows, you'll want to select a streaming media device that works with those services. To see which streaming devices are compatible with each major streaming TV service, check out our Cord Cutters Guide.
Hide Your Device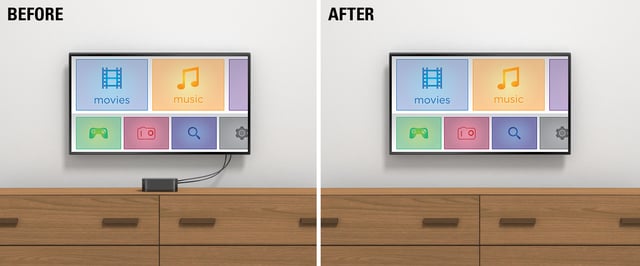 Streaming devices are so compact that you can fit in places the traditional cable box can't. One of the best places to hide them is behind your TV. Use a SANUS streaming media mounting bracket to easily hide your device. Simply strap any device to the bracket and attach to the back of the TV. The bracket works with mounted TVs or TVs on stands. No need for that little device to hang below your TV. Out of sight – out of mind. And while you're streamlining your space, now is a great time to mount your TV to the wall. A TV wall mount gives you a sleek look and improves viewing experience...
Topics: Cable Management