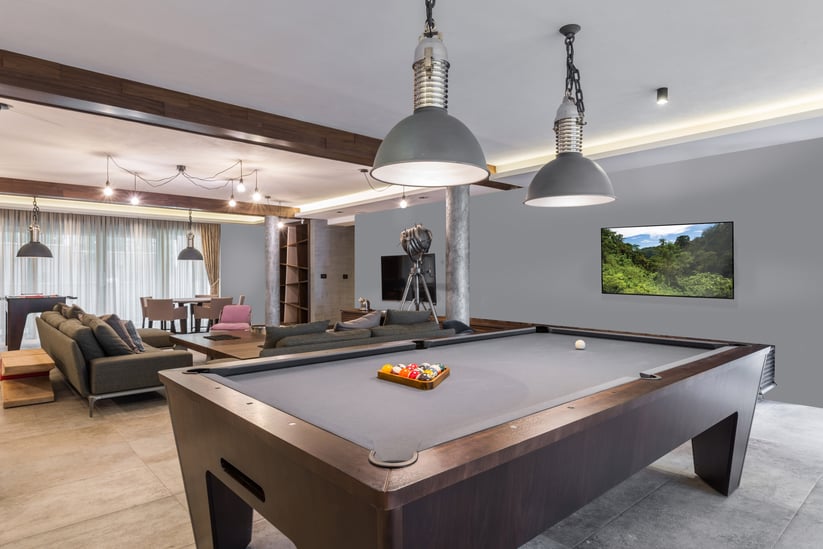 Man caves have come a long way since guys started putting projection TVs in the basement and hanging framed jerseys on the wall. Now they're gathering spaces designed for friends and for entertainment. Whether you're enhancing an existing man cave or want to start fresh with prime features and new electronics—before you snag that new big screen— first check out these ultimate man cave ideas for upgrading your space.
Tip 1: Divide your man cave into zones
If you're going to design the ultimate man cave, that means considering the interior design of your room. Sketch out your floor plan. Where are the windows? The doorways? What are your cave essentials? Likely you'll want a place for:
Drinking

Eating

Games

Watching movies and TV
Consider where you could put those zones, and what obstacles might get in the way.
Pro tip: don't place your dartboard in a thoroughfare, or your guests will be dodging projectiles on their way to the bathroom or another beer.
Speaking of alcohol, a bar is a focal point of many a man cave, so why not...
Tip 2: Give your bar some permanence
With a well-designed bar in your man cave, your guests will praise your knack for or lack of mixology whether their drinks are neat or on the rocks.
Before you had the space, maybe a wine cart or couple of open shelves functioned as your bar. All you need are liquor and glassware, right?
But in your man cave—a place designed by and for you—if you want a bar, you're going to make it prominent and permanent.
Upgrade your bar with custom cabinetry built to fit your style and space. You could even turn a closet into a bar.
If you want a wet bar, think about where your room has (or could have) plumbing access. Once you've got your bar zone figured out, highlight the zone with paint or architectural interest. Install a glass or tile backsplash to show your guests you take your libation service seriously, like an adult.
You could even go all-out and put up a brick or stone wall to make your bar feel like a pub.
Tip 3: Convert your pool table into a dining table
Now that you've got the drinks settled, upgrade your pool table into a convertible—no, not that kind of convertible—so you can eat and play in half the space.
A pool-to-dining table is a pool table with a detachable, solid tabletop. Seating can be the traditional dining chairs, which you slide out of the way for extra seating during a pool match, or benches or stools that slide under the table during game play. A long bench can be built with storage for your pool cues and chalk.
Blatt Billiards offers Dine&Play and Fusion tables in a variety of styles. If you've got an old pool table you'd like to upgrade, Craftsman shows you how to convert your own.
With all that extra space, you'll have more room for darts or that vintage coin-op pinball machine you've been dreaming of.
Tip 4: Upgrade your home theater
It's finally time to upgrade your theater setup and bring it into the twenty-first century. Your man cave is a part of your house, so make it livable.
First, have a variety of seating in your theater zone. Your favorite lounger for you, a love seat or sofa for family or your significant other, and maybe a couple more seats or bar stools for friends.
Second, consider a new screen. Whether you prefer a projector and screen set-up or a big flat screen TV, the advances in the last few years are game changers.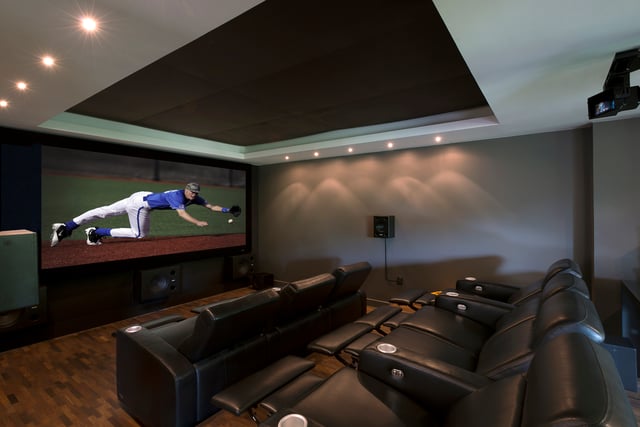 If you want a traditional set-up, check out some of the new, ambient light-rejecting screens that look just as good as a TV! If you plan to switch to a larger flat screen TV, think about screen placement and room size to determine the best size of TV.
Or, for a man-size upgrade to your man cave, how about the best of both worlds? You could go for a dual TV experience, to watch two games at the same time.
Tip 5: Maximize your TV with a swivel mount.
You can have that designated home theater zone, but why stop there? Treat your TV like the "crown jewel" of your man cave that it really is.
Whether you upgrade to a 4K or LED, and whether it's a 60-inch or 80-inch screen, a full-motion mount is the best way to get the most performance out of your top-of-the-line TV.
With a full-motion TV mount, you can watch the game from your bar, watch a movie from your couch, and watch your favorite shows while playing pool — always from the optimum angle. A swivel mount even works with curved TVs.
No doubt about it, a multi-viewing TV is going to be what sets your man cave above the rest.
Here's how the full-motion TV mounts work:
Topics: How To, TV Mount, Design, Full-Motion Mount