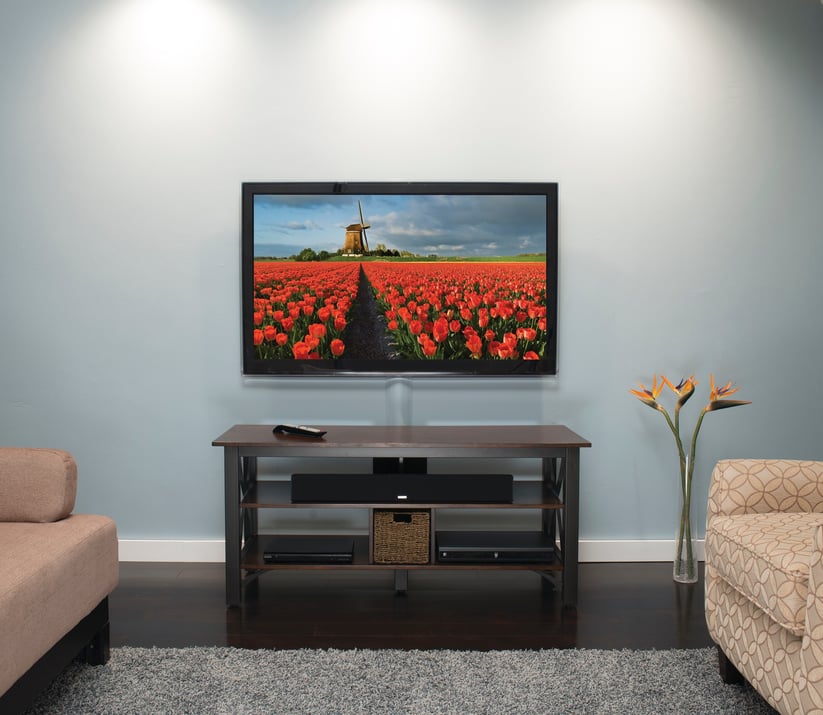 Confession time. Are too many cables, cords and wires wreaking havoc on your otherwise tidy media setup? (Come on, be honest.) If you said, "yes," you're not alone. I have to admit, I have some problem areas in my home that could stand for some cleanup. Cables can be an eyesore but I say "nevermore!" We can, and we WILL tidy up those ugly media cables once and for all. We can do it together. I'll explain how.
Necessary Evil
Cables are a necessary evil for obvious reasons. They supply the power, audio, and video signals to all of our components. So we definitely can't go without the cable -- not yet anyway. I dream of a future with a totally wireless media system. How simple and clean would that look, right? But in the meantime we have to get that HDMI to stay hidden (along with the Blu-ray cord, power, cable wire, Wii, Xbox, Roku, soundbar and everything else we have plugged in) because they aren't going away anytime soon. My biggest pet peeve? Seeing a TV mounted on a perfect wall with all the wires hanging in a tangled mess. The whole point of mounting the TV is to have it look like piece of art on the wall, right?
For the easiest possible way to hide your wires, you can use an on-wall cable management system or a conduit beneath the TV wall mount to hide the cables. On-wall cable management systems are great because you don't have to cut any holes in your walls, you don't have to work with wiring, and they're inexpensive. As far as solutions go, there are a lot of options -- some are sleeker than others -- but in most cases you can paint the covers to match the color of the wall. What a beautiful thing. Some solutions, like this cable tunnel from SANUS, you can even cut to size. On-wall cable management systems also offer flexibility if you swap out components or in case you regularly need to change connections on your TV.
Finished Look
The best way to get a completely finished look is to have the mount professionally installed and the cables hidden in the wall. This does require some cutting into the wall, but it doesn't always require a pro. Running the wires through the walls could be as simple as feeding them up to the attic (or down to the basement) and then back up again near power and sources. Or, there are some in-wall cable management systems out there that let you simplify installation to get the cables discretely routed inside the wall without needing an electrician. For those of us who are intimidated by DIY manual labor, some of the in-wall management options come with a template to tell you exactly where to make the cuts in the wall.
Today there are so many amazing options for media rooms (fancy Smart TVs, fantastic sound quality, trend-driven media furniture) but the TV is still the focal point. With TVs getting lighter and thinner, we are going to be able to do so much more in the way we mount them, but it will still be a while off before we can get rid of our cables, so until then -- find a way to hide them. The options are relatively inexpensive and provide a sleek, clean look. Whatever you do, make sure that mounts are selected properly and cables are run neatly.
Topics: Cable Management