Wondering how to update your living room to accommodate your TV wall without sacrificing style? No matter your style, we've got a fresh idea for you. Try one of our five design ideas to update your space.
Entertainment Center
Entertainment centers were huge in the 90s and 00s — both figuratively and literally. Entertainment centers and built-ins often had a perfectly-sized shelf for the TV, so when people upgraded to a bigger screen, they'd have to get rid of the old entertainment center and buy something new.
Back then, entertainment centers hid all the bulk of the big TV tube, but now, squeezing a flatscreen TV into an entertainment center gives you a boxy, dated appearance. The solution? An entertainment center with a much bigger opening, and wall-mounted TV, like this Pottery Barn set-up.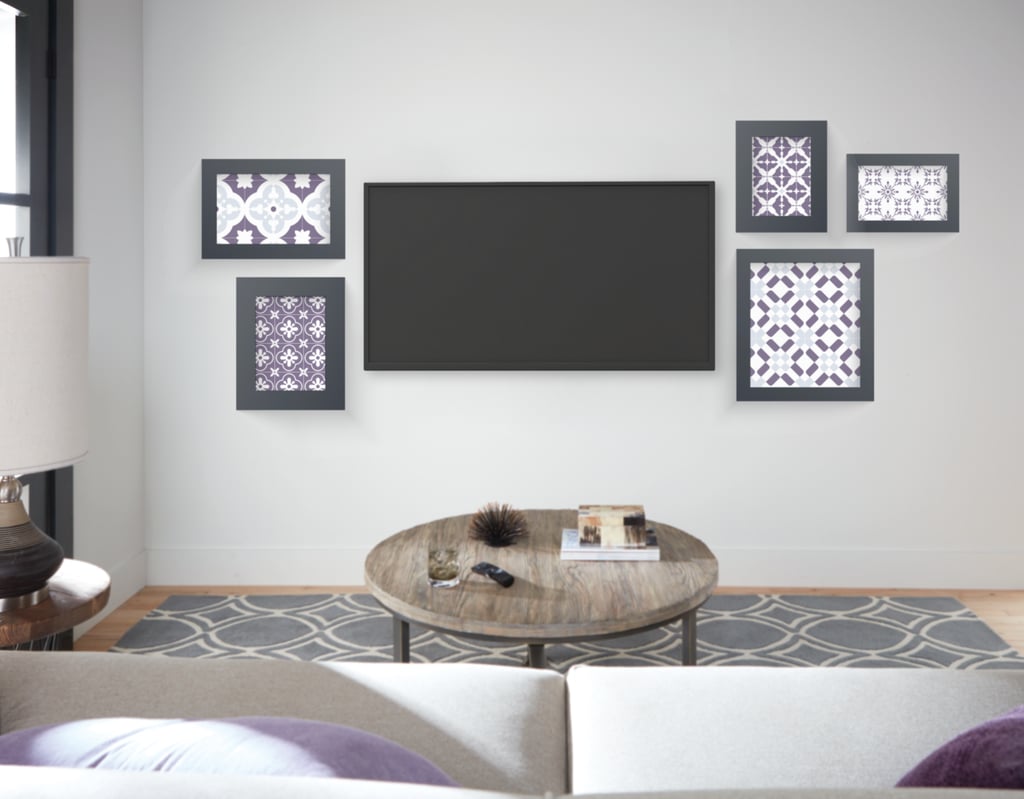 Floating Shelves
You can use floating shelves as another contemporary alternative to the entertainment center of yore. Floating shelves leave more wall space, making your room appear bigger than visually heavy bookcases do.
And if your shelves are floating, why not also float your TV by mounting it on the wall?
Gallery Wall
A gallery wall can incorporate your television, looking great and making a statement, whether your TV is on or off. Try mixing frame materials and sizes, art media (oils, watercolors, drawings, photos, collage), and other decor, like a marquee letter.
See a few ideas for arranging in the below gallery wall template: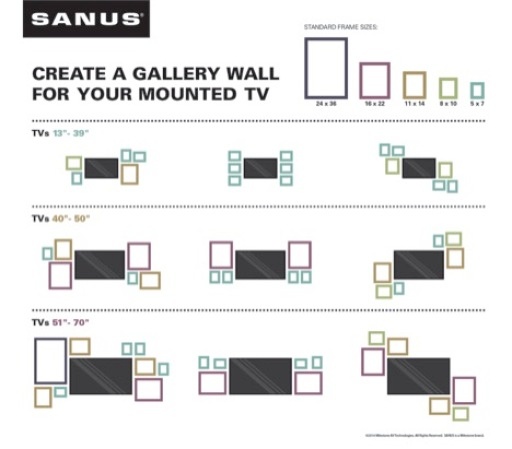 Minimalist
Minimalism is the opposite of clutter. There's a certain bliss to its simplicity. And when you mount your TV at the optimal height for viewing, you can reduce the size of your media storage or eliminate it completely.
For a minimalist, modern look (or Scandinavian vibe), mount your TV to the wall and hide the cords and A/V equipment. TV stand optional! The idea is to let the simple geometry of your TV and surrounding furniture breathe with plenty of surrounding wall and floor space.
Hidden TV
A hidden TV tells guests that you can change the focus of your room from passive entertainment to active engagement with those around you. Hide your TV behind a closing cabinet or even some artwork to change the mood of your room, then bring it back out again when you're ready to relax, watch the big game, or enjoy a movie.
Topics: Design