Baby proofing the home is top of mind for new parents and parents-to-be, with the baby safety checklist seeming almost endless: putting up baby gates, adding locks and latches to accessible cabinets and drawers, moving cleaning supplies and other potentially toxic items out of reach…and the list goes on.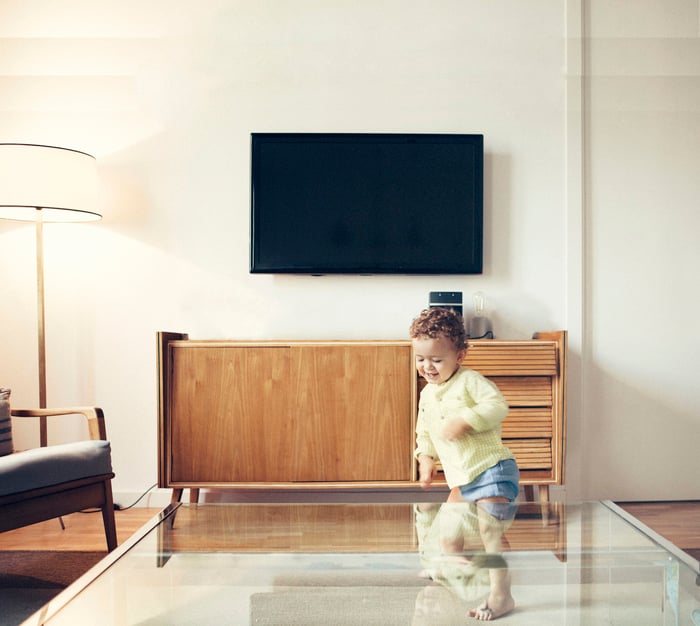 Even with the best of intentions, it can be hard to get to every item on your list. On top of that, open concept floor plans, which have been tremendously popular in home renovations and new home design, remove walls in favor of creating a more unified open space. While aesthetically pleasing, this design style reduces the amount of barriers in the home between baby and potentially hazardous situations.
To help you with your baby proofing efforts and help you avoid the types of accidents which can seem most tragic – the preventable ones, we've put together a list of sometimes overlooked – yet critically important baby proofing measures every home with young children needs.
Keeping Cords and Cables Out of Reach
Bluetooth and other wireless connections are becoming more and more prevalent, but until we live in a completely wire-free world, cords from TVs, cable boxes, DVD players and other media devices pose a safety risk for young ones.
An excellent way to keep cords out of sight and out of your curious baby's hands and mouth is a cable management system. The term cable management system may sound complex, but it is simply a slender plastic tunnel that runs against your wall storing electrical cables neatly inside.
Easy to use and quick to install (installation should take no more than 20 minutes), SANUS offers an on-wall cable management system that effectively conceals up to eight cables and can be painted to blend in with your wall color.
Securing Tip-prone Furniture
Recent media coverage of furniture tip-overs that have injured and tragically, even killed children has brought an increased amount of attention to furniture safety.
Many of these incidents are result of children attempting to climb pieces of tip-prone furniture including dressers, entertainment centers and bookshelves. To reduce the likelihood of this type of accident happening in your home, secure all top-heavy pieces to a wall with an anti-tip strap.
A growing number of furniture manufacturers are now providing anti-tip straps when furniture is purchased. If you are wanting to secure an older piece of furniture or are looking for a thoroughly vetted and trusted product, we recommend the SANUS anti-tip strap, which is made of heavy duty polypropylene straps. (Yes, the same material that bungee jumpers use in their harnesses.)
In addition to securing furniture to your wall, you can help reduce the risk of an accident by removing items that tempt children to climb, such as toys and remote controls, from the tops of furniture. Additionally, make sure heavy items like books are placed on lower shelves.
Making Outlets Unaccessible
Most parents and parents-to-be are aware that wall outlets pose a large safety risk for young children. After all, electrical outlets in most homes are just the right height to attract crawling babies.
Covering outlets is typically a top safety priority for parents. Although ironically, some outlet cover options can create additional safety risks for children – specifically the plastic single outlet cover. While an effective solution when in place, should mom or dad forget to reinsert the cover after using an outlet, it can get in the hands of a baby and become a serious choking hazard.
As a general rule of thumb, anything that is small enough to fit through the tube of a roll of toilet paper is a choking hazard for young children.
Parents should consider swapping out single outlet covers with sliding plastic plate versions. Once a plug is removed from an outlet, the plate version instantly slides into place blocking access to the outlets beneath. Not only is the sliding cover safer, it also more convenient and easier to use.
Securing Power Surge Protectors and Power Strips
Just like electrical outlets, power surge protectors and power strips present a shock hazard for babies. An additional challenge with these devices is that they are on the ground, which means they are totally and completely accessible to children.
An ideal baby proofing solution for surge protectors and power strips addresses both issues. Look for a power surge / power strip cover that encloses the entire strip including the on/off button, and that also can be wall mounted.
Once you have your surge protector mounted, don't forget about the cords. If the devices plugged into your surge protector or power strip are in a more permanent location (think TVs, desktop computers, gaming systems, etc.), use a cable management system to keep cords concealed and out of your child's reach.
Preventing TVs from Tipping
There are a lot of great reasons to mount a TV: to save space, create a streamlined aesthetic, showcase your top-of-the-line, 80 inch flat-panel screen. But, if you have a baby or even a toddler in your household, the absolute best reason to mount a television is safety. The most tip-over accidents and fatalities occur with children under the age of 5.
Many people think that because flat-panel TVs are lighter than the CRT TV, aka tube TV, that they grew up with – that flat-panels aren't that much of a risk. But because of their top-heavy design, flat-panel TVs can tip at even the slightest nudge. Unfortunately, injuries to children from TV instability has increased by 31% over the last ten years. 1
For the average person, selecting a TV mount and deciding where and how to mount your TV can be overwhelming, but it doesn't have to be. The SANUS MountFinder tool was designed to easily walk you through the mount selection process making sure you find the perfect mount for your TV.
Beyond selecting a mount, SANUS walks you through every step of the installation process – ensuring your TV is mounted exactly where you want it on the first try.
At SANUS, children's safety is important to us. That's why we've partnered with Safe Kids Wordwide to provide parents and families with information that can help prevent avoidable injuries.
For more information on how you can make your home a safer place for your child, visit www.safekids.org.
---
1 Source: 2018 U.S. Consumer Product Safety Commission report "Product Instability"
Topics: Home Safety