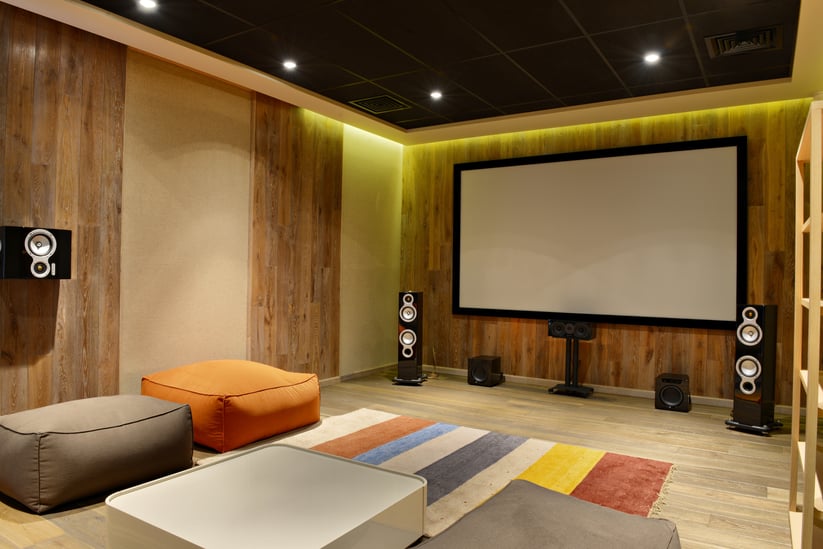 Home theaters can range from a big TV, sofa, and speakers in a nice basement to a high-end home with a dedicated room that mimics a commercial movie theater. Some of it simply comes down to taste and budget, but if you want to create an in-house cinematic experience, try these tricks for optimizing your home theater design.
Dream Up a Wish List
Maybe you've been dreaming about upgrading your home theater for a while, but it's time to put those ideas to paper. If money were no object, how would you outfit your theater? What would you prioritize? A few more questions to consider:
Are you retrofitting an existing room, or creating one from scratch?
Is screen size more important, or are you more concerned about the quality of the picture?
How much seating do you want, and how much do you have enough space for?
Is the room isolated? Will you need to soundproof it?
Will you have rows of stacked seating, with chairs or sofas on tiered platforms?
What kind of lighting do you want?
Will you incorporate game consoles and gaming considerations in your home theater design?
Ground Those Dreams in Reality
Now that you have your home theater wish list, it's time to get practical. What kind of budget do you have? Where applicable, make sure you allot for the following theater needs:
Mounted projector and screen OR a mounted TV
Seating
Sound system
Construction of tiers or built-ins
Soundproofing
Lighting
Paint OR wall covering
Decor
Technology
Consider Your Tech Options
The most important part of your home theater is the screen, but you'll also have to make other audio and visual decisions.
Do you want a projector and screen, a mounted flat screen or a mounted curved screen?
Will your TV or DVD/Blu-Ray player be internet connected?
Are you going to use cable, satellite, or internet TV?
Do you want a universal remote, or are you fine using one remote per device?
How many game consoles will you include, if any?
How many components will you be hooking up? Will you need an AV rack to house all of these items?
What about installation? Do you plan to do the work or would you prefer to work with a professional to map out your plan and fully install?
Choosing an AV receiver will allow you to connect all your devices to the TV or projector in one central location, making switching cables easier. AV receivers also connect to the sound system.
Home theater sound systems are usually 5:1 or 7:1 systems, using five or seven speakers, respectively. One speaker is centered in the front, two are in the front on each side, and two are in the back on each side. If you have a 7:1 system, two speakers will also be in the center on each side.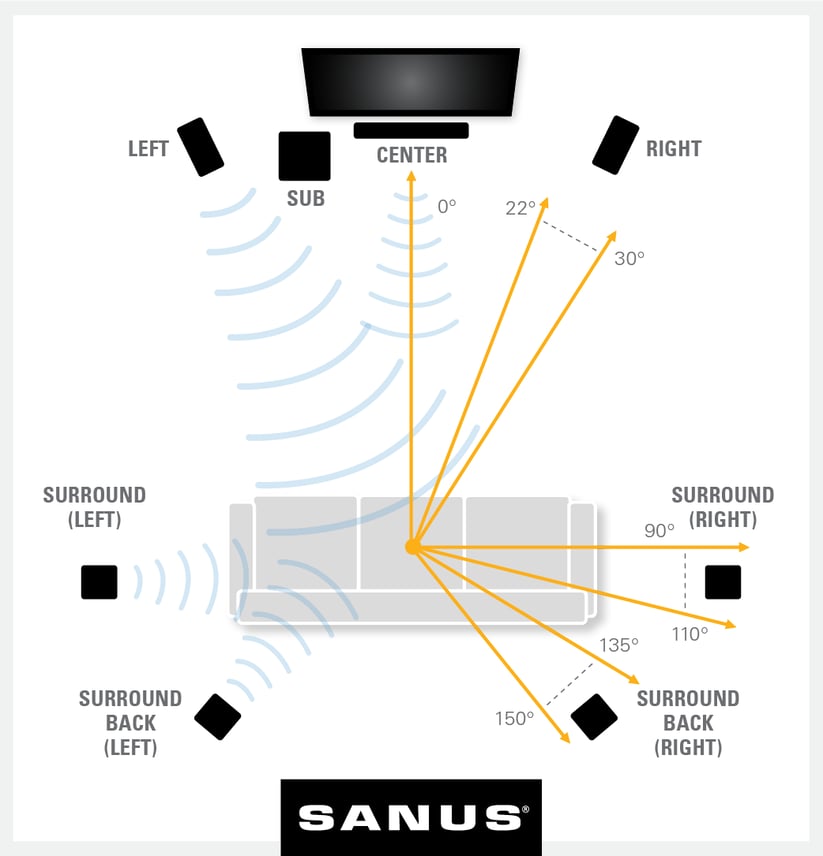 You'll have to decide between mounted, in-wall, or a combination of both types of speakers.
Decorate, Furnish, and Accessorize
Choosing a theme or mood for your home theater will help you make style decisions. Browse some of these media rooms for inspiration or start with your favorite seating and work from there.
With these tips, you can design your home theater to work for your audio-visual needs and to show off your personal style.