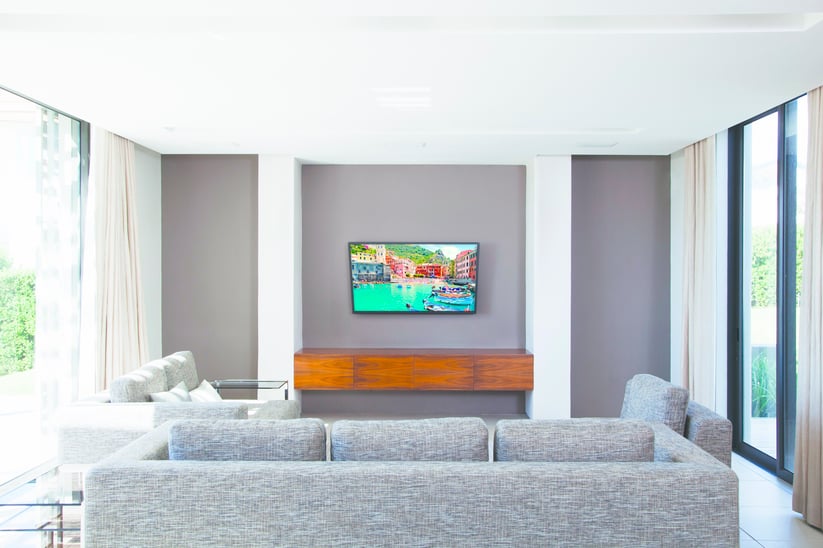 You were blessed with lots of windows and your living room has incredible natural light. So, what's the problem? All that natural light is ruining your TV picture! Even with a matte flat panel television there is bound to be some light bouncing off the screen and it's even worse when the sun moves across the room at different times of day.
The Fix:
One simple change could make everything better, Mount up!
Mounting your TV on the wall will save space, give your room a polished look and for those sunny rooms you can get what's called a full-motion or tilting mount. A tilting mount allows you to do just that: Tilt the screen down or up to avoid glare and achieve the ideal viewing angle. But for those really sunny windows that seem impossible to avoid, you can put your TV onto a full-motion mount and pivot the mount away from facing the window so that the reflection goes elsewhere. The ability to tilt a TV up and down or swivel side-to-side can eliminate unwanted reflections on a TV screen.
Full-Motion vs. Tilting
Glare is just one of the problems that people have with different viewing angles in their home. A full-motion TV wall mount gives you the ability to tilt, swivel and extend in every direction. You can always be certain you'll get that optimal viewing angle. With the ability to tilt TVs up and down, tilting mounts are also a great solution to obtaining the optimal viewing angle. Tilting mounts ensure high picture quality when watching an LCD TV while lying on a bed or viewing a TV that is not mounted at eye level. Tilting mounts also highlight the thin look of many popular LED TVs on the market by placing them extremely close to the wall.
Mounting a TV has many other benefits as well. It can make valuable space in a room by removing the need for furniture, creating a clean and sleek appearance. With the number of injuries and deaths resulting from unstable flat-panel TVs growing at an alarming rate, mounting a TV also adds to the safety of a room by helping to prevent accidental bumping or tipping. So, what are you waiting for?
Topics: TV Mount, Full-Motion Mount, Tilting Mount