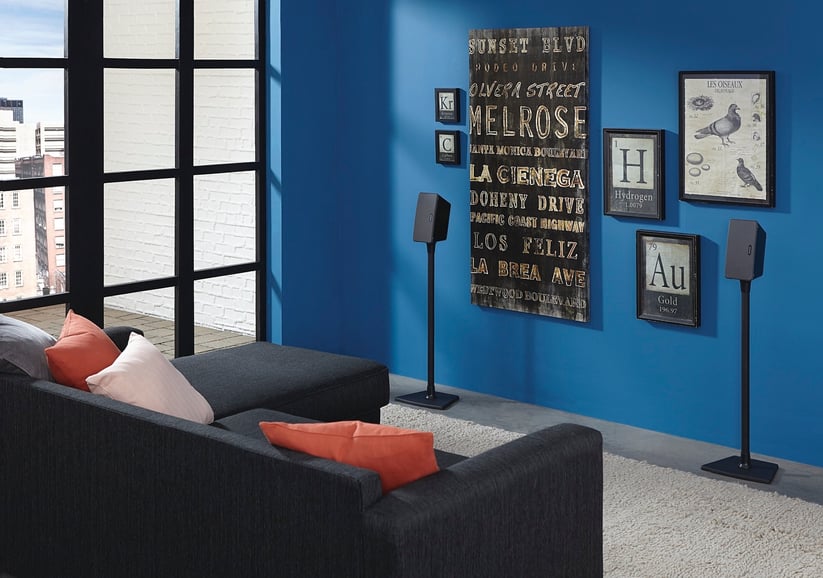 So you've got the perfect home entertainment system (which may include a library of blockbuster hits, audio components that can rival a live concert, and a television that's so big it deserves its own wall), but you're not quite sure how to achieve the perfect layout to make the most of your entertainment space. That's okay, because we've got the stats, the facts, and (possibly) the racks to help give you some ideas on how to create the best media space in your home.
Trend Toward Smaller Homes
Homeowners today are reducing the sizes of their homes. A recent study from the National Association of Home Builders (NAHB) shows that the trend toward smaller homes is expected to grow in the next five years, with the average home size declining each year. This data and infographic were put together by Alan Mascord Design Associates, Inc. to show that a change in economic climate and a growing concern for sustainability have led people to buy smaller houses in the US in the past five years, and that trend is expected to continue.
How does living in a smaller home change the living room? NAHB says the living room will merge with other spaces in the home to create the "Great Room." This leaves less room for the TV, extra-large media center, and accessories, and has ultimately gotten homeowners shifting to the mounted TV trend. Of course everyone wants to have the best audio/video gear around and still maintain an elegant look for their home's interior. So, is it possible to balance a multi-purpose living space with a low-profile entertainment system that will rock your socks off? We think so!
What Should Be Done with Cables, Cords, and Components?
Small AV components can affect the look of your media space in a big way if they're not properly organized. The most common AV gear used in your home is likely to be audio speakers, cable boxes, DVD players, gaming systems, streaming media players (the list goes on, but you get the idea) - so it's obvious these components can quickly take over what little space you might have and are not really all that great to look at. Frustrating, right? Have no fear! Hiding this gear is totally possible with in-wall and in-ceiling component solutions that organize and conceal your components, saving space and getting rid of all that unnecessary clutter. Along with routing cables inside the wall, AV component shelves can be installed directly below a mounted TV, suspending your entire entertainment center on the wall, freeing up valuable floor space. Sound bar mounts conveniently place a sound bar directly underneath mounted TVs, giving the final set-up a polished look.
SANUS component shelf mounts lets you install a component, like a cable receiver or video game console, below the wall-mounted TV.
Larger AV components for the serious home theater buff can be combined into a single rack that hides in a closet or spare room. With distributed systems, you may only need to have one component actually present in the living space, so hiding everything on a rack makes perfect sense. If racks aren't your thing, another option would be to go for a specially designed piece of furniture that smartly and stylishly houses your AV components.
Going for the Gold and Mounting Your TV
Now that you know how to hide all your AV gear, let's talk TV mounting. Mounting a TV is a great solution to complementing the thin, low-profile design of many TVs. Some TV mounts allow for a TV to be placed as close as a half inch away from the wall, and there are even slim options with functionality to pull out and swivel your TV to view from multiple seating areas, so no matter the size of your room and where people have to sit, they'll always have a perfect view of the TV. Placing picture frames or paintings around a slim mounted TV to create a photo vignette adds a trendy design element, and your guests may not even notice the TV on the wall.
Decorative TV/Photo
Another stellar benefit of mounting your TV is that you can add surge protectors and other diminutive devices directly behind the TV so that they're completely hidden, yet still easily accessible. Add an in-wall cable-management system and you have finished simplifying and hiding all those unattractive wires that usually dangle from behind a wall-mounted flat-panel TV. People will wonder when you suddenly became an AV magician -- making cables disappear! Making your entertainment space beautiful and functional can be done no matter the size of your room, trust us. All you need are a few simple systems put in place, and the know how (which you've just been armed with) to put together a truly fantastic media and entertainment space!
Topics: Cable Management, TV Mount, Design