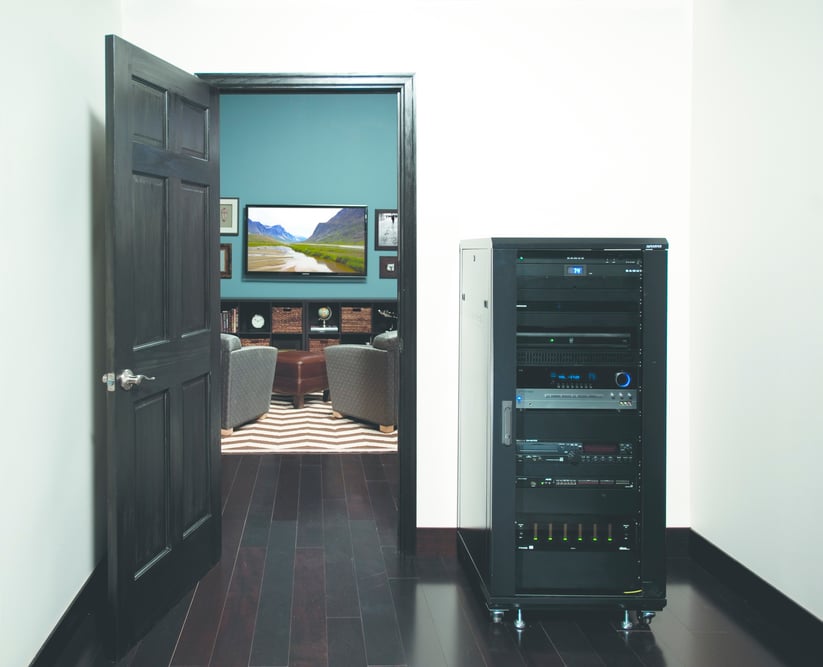 We get a lot of questions from people about audio video racking systems. What is the purpose of an AV rack? Do I need one? What are some things to look for when choosing a rack for my electronic gear? These are all great questions that we intend to answer in a series of posts -- you guessed it -- all about AV racks. In this first post, SANUS Product Manager Rob Zurn answers some of these common AV rack questions.
Q: Do I need an AV rack? I have an old linen closet that would work. I'll just get a couple more shelves or put in a wire shelf system.
Rob: True. You could buy or modify things that will hold your AV electronics on shelves. Shelves are flat and hold stuff. But I'm here to tell you, you really don't want to cut corners when it comes to properly supporting and maintaining your expensive AV equipment. Here's why shelves and wire racks aren't good solutions:
They are very difficult to secure.

They are very hard to adjust.

They make it difficult to setup, upgrade or service equipment.

They are not designed for airflow or heat dissipation.
From a maintainability and serviceability standpoint alone, it's time consuming and problematic to do it this way. You lose all control over thermal management. It becomes very difficult to make the system look nice, control cabling and wires, and especially know that the electronics are safely secured and won't collapse. By integrating an AV rack into your media space, you now have a controlled environment. You can control the security, lock it up and hide things. You can control the airflow and heat dissipation. And you have a nice aesthetic. As a professional installer with more than 19 years of experience in the field, having control of these things was a big deal for me and for my customers as well. For all the pro installers out there, I know you want to make the systems you install look as good as possible. It's your calling card (or it should be). For the end-user or DIY'er, you want your work and your home to be beautiful and functional. Well, rack it up! There's no other solution out there that allows you as much control of the environment, whether that's for cooling, security, aesthetic or transportability. So, to answer the question, "Do I need an AV rack?" I simply say, "what do you think?"
Next time Rob will address how to select the right AV rack system for your project. Do you have an AV rack question for Rob? Leave a comment, below, and we'd be happy to answer.
Topics: AV Racks