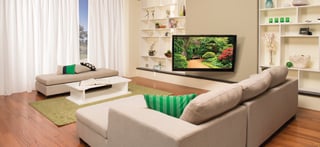 Designing on a budget? Start by making simple changes that have the greatest impact on your space. To open up a room a bit more, update to create a more contemporary feel, or just mix it up to reflect your new style, you have freedom to experiment with some different styling options. For around $200 or less, you can make a big impact on each of your renovation spaces. With solutions for every room from SANUS, you won't have to sacrifice style for function or break the bank doing it.
Big Transformations on a Budget
No matter the purpose of the room, opening up space is a simple way of creating more room to try different furniture arrangements. With many layouts and viewing spaces, SANUS TV wall mounts can optimize your space. Here are a few examples of guidelines I follow to make the most of my renovation budget:
Living room or main entertainment space
With a larger room, arrange furniture to highlight the focal point of the room. By placing a TV on a full-motion mount, you can add extra warmth to the room and allow a great viewing experience from any seat. Multipurpose rooms call for a multipurpose mount, adding drama to your main entertainment space and enhancing functionality and style.
Bedroom, den, or relaxation spaces
Maximize a smaller space with minimal furniture and a few key design tactics that create a comfortable viewing space. With SANUS tilting mounts, you can relax and enjoy your favorite shows and movies in your bedroom without all of that eye and neck strain. The tilting capability allows the TV to be mounted higher on the wall and angled downward for a more comfortable position from which to watch while lying down and decompressing. I used a full-motion mount in my space to take advantage of the alcove to the right of the fireplace. My recommendation is to devote your mantel and fireplace space to beautiful pieces, old and new that reflect your style and build off of the drama and coziness a fire provides naturally. That is exactly why I chose to move my TV to the right, for easy viewing, combining technology with my personal style so there is a great blended effect of the two.
Office and work spaces
Home offices and other work areas serve a more basic purpose and call for a simple solution. Mount your TV with a fixed-position mount to get your TV up and out of the way, clearing up spaces for work to be done - which we all need, to make our workspaces super functional and take advantage of limited space. Keep in mind that for the best viewing angle, you should set the center of your TV at seated eye level, which reduces head and neck strain. Fixed-position mounts keep the TV safely secured and nearly flush against a wall.
For any room layout and design preference, SANUS has a solution for perfect placement of your TV. You can find more ways to refine your entertainment space by completing an easy DIY project: mounting your TV.
Topics: TV Mount, Fixed-Position Mount, Design, Full-Motion Mount, Tilting Mount