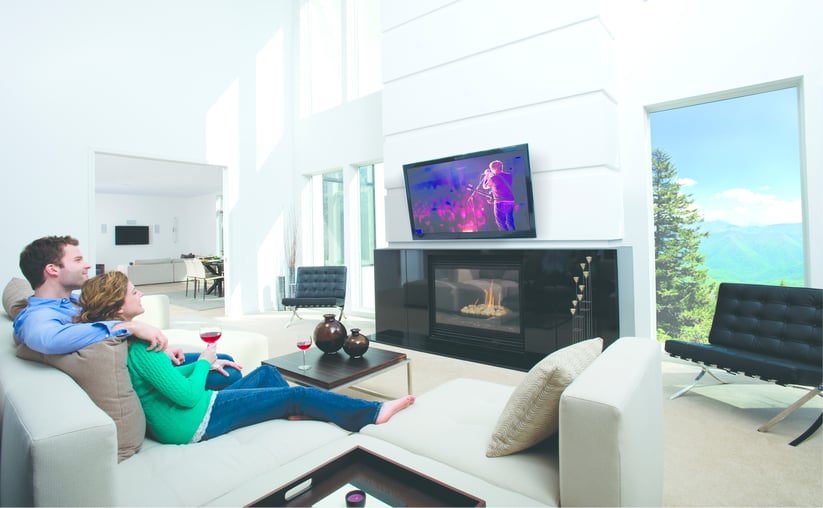 These days, the space you and your family choose to enjoy TV shows, movies, and games has the potential to be so much more than a clumsy old TV sitting on top of a stand. Check out this list of the Top 10 Things Every TV Viewing Room Needs to entertain your family and friends in style.
1.TELEVISION
With the immense amount of television technology currently at our disposal, the options are seemingly endless when it comes to finding the right TV, so you'll need to determine which features are most important and make the most sense for you.
Pick Your Light. Plasma TVs are best for darkened rooms with not much natural light, while LED displays perform better in bright rooms. LCD TVs have limited viewing angles compared to plasma, but are much more energy efficient.

Is a Smart TV a smart choice for you? Basic Smart TVs have the capability to browse the Web or stream movies. More advanced systems can do things like voice control, link to your Smartphone, or develop a recommendation for shows based on what you've previously watched.
Going 3D. If you have your heart set on a 3D TV, take the time to learn about the differences between active and passive 3D, and then choose the best option for your needs and budget. (Buyer notes: Many high-end sets come with a separate 3D function that you can turn on and off as desired. But know with any type of 3D TV -- you'll need to wear a nifty pair of viewing glasses, and you might also need to invest in 3D compatible equipment, such as a new Blu-ray player.)
Size Matters. Factors that play a role in choosing a screen size include: budget, viewing distance, and desired resolution. Click here to calculate how far you should sit from the TV depending on its size.
For more in-depth tips on picking the right TV, check out pcmag.com's article, How to Buy an HDTV.
2. TV MOUNT
Mounted TVs are safer, look stylish, can enhance acoustics, provide better viewing angles, and take up less space in a room. It's puzzling why all TV owners don't already have their televisions mounted. Use the SANUS MountFinder to find the perfect mount for you from the #1 brand in the US.
3. WELL-DESIGNED AV FURNITURE
Components like cable boxes, Blu-ray players, streaming media players, soundbars, speakers, and gaming systems are another important part of a well-rounded setup, but can often become cumbersome with various cords, remotes, or controllers. The right piece of audio video furniture will house all of your AV gear while keeping them protected from tipping and overheating. Along with outstanding functionality, all SANUS furniture is crafted beautifully and stylishly to fit any home decor.
4. PROPER ACOUSTICS
Okay, so your fancy new TV sounds great, but maybe great isn't enough. You're going for mind-blowingly awesome, so you've bought yourself a soundbar, and now you have enough sound to entertain the neighbors half way down the block. (Sweet!) But where is the soundbar going to fit into your TV and furniture setup? Easy! This soundbar speaker mount attaches directly to the TV for a convenient and stylish setup. It's so amazing, the sound literally moves with the TV. Or, if you choose, you can place your soundbar in an amazing piece of SANUS furniture -- designed specifically to hide soundbars yet not affect sound.
5. COMFORTABLE SEATING
Whether or not you prefer an over-stuffed chair or a large leather sectional, comfortable seating is a must. Nice cozy blankets, pillows, and a footstool will also be key in achieving top levels of comfort.
6. A CLEAN SCREEN
If you've checked off numbers 1-5 on this list, the last thing you want is dust or fingerprints cramping your style. The answer? Streak-free screen cleaner.
7. MINI-FRIDGE STOCKED WITH BEVERAGES
Now that we've got the basics down, you can start adding novelty items to your viewing room. Fun-sized fridges stocked with your favorite soda, juice, or adult beverage will be perfectly accessible for any time you need to quench your thirst.
8. RETRO POPCORN MAKER
Cheesy? Maybe a little, but we're thinking it'll be more buttery than anything. A retro popcorn maker says, ""This is where the fun and magic happens. Come. Eat. Enjoy.""
9. SOMETHING GOOD TO WATCH
Whether it's the big game, your guilty-pleasure teen drama or the highly anticipated fourth season of Game of Thrones, you'll need to find something captivating to watch. IMDb has perfected a list of the Top 250 Movies of All Time.

10. GOOD COMPANY
Cozy up to your significant other. Host your child's next sleepover. Or just cuddle up with your pet. Regardless, your space will be enjoyable for all.
If you're able to check all ten things on this list, congrats, and when can we come over?
Topics: Design