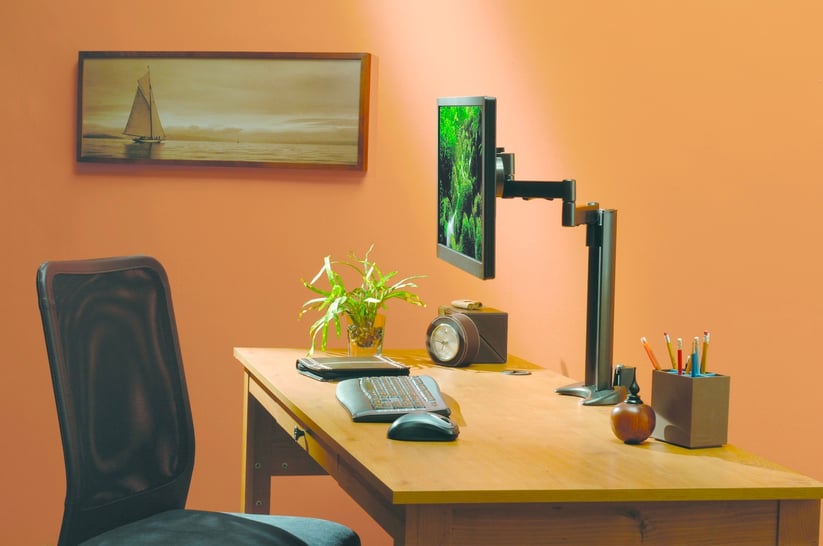 For some of us, our jobs require that we work from home. For others, working from home is a luxury. Maybe you simply need a dedicated area of the house to sit down and check bank statements or pay bills. Whatever uses you have for your home office area, ask yourself, "Is my workspace living up to its full potential? Do I feel inspired?" Chances are, your home office could use a design makeover. Many times home offices are small and overcrowded with file cabinets and papers strewn about every which way. In this catchall for clutter, it can be difficult to get anything done. But with the amount of productive possibilities this room can bring, it's worthy of some design consideration. There are several ways you can create an open, breathable space conducive for "getting things done," even if your office is itty-bitty.
What Inspires You?
I'm so grateful my job allows me to inspire people through design. So what inspires you? Make a list, and incorporate these things into your office area. If your family or children are what keeps you motivated, pick a few of your favorite photos and have them printed on canvas to hang on the walls. By printing all photos in black and white or sepia tones, you can create cohesive, yet personalized decor.
DIY Organizing with Style
DIY corkboards are a painless project to make, and they help keep your home office colorful and organized. Mount cork squares to the wall, cover them in any color or pattern of fabric you love, then attach molding around the edges to create a frame. Go a step further and create personalized thumbtacks to secure important documents or photos to your corkboard. Maybe you're feeling extra snazzy and want to try making your own glitter thumbtacks!
Add Instant Pizzazz with a Cute Rug
Another thing you can do is to incorporate an area rug with a large pattern to define your office space. This is a great technique to use when your office isn't a separate room but, rather, a room within a room, say a desk in the corner of a bedroom. By choosing a pattern or design with at least two colors (black and white are timeless), you'll create a look that is simple, clean, and makes the room appear larger. Rugs with chevron, herringbone, or striped patterns are trendy and also give the perfect element of pattern blocking for an open look. Feeling really bold? Try out one of these rug trends.
Create Room to Relax
To make sure you stay stress-free in your home office, pick up a cozy chair and snuggle it up next to a window for a sunny place to unwind. If you have an iPad, you can use the nifty SANUS iPad stand along with a wireless keyboard for easy typing anywhere. If you use multiple computer monitors at your main workstation, you can mount those on the wall or on a desktop. This will give you a sleek set-up and, ultimately, more desk space next to the window where you can comfortably reply to emails. I hope these tips inspire you to transform your home office into a productive and enjoyable space. Do you have a great design tip? Leave a comment. I'd love to hear your ideas.
Topics: Design